Netflix is one of the most popular undisputed king when it comes to online streaming of TV shows and movies, but just because it's the go-to option doesn't mean it's always the best one. Sometimes you're looking for something different, and sometimes you want to be surprised. Maybe you live in a country where Netflix isn't very good or it's blocked (even though Netflix is now available Globally, with some exceptions of-course). What do you do then? Here are 11 sites that you can use instead of Netflix to watch TV and movies.
11 Best Netflix Alternatives
1. Amazon Instant Video
Amazon is really picking up the pace when it comes to video streaming—their original content is getting more recognition for being high-quality, they're getting a lot of the shows and movies that people want to watch, and the price for instant video is also included in Amazon Prime, which has plenty of its own benefits. And now, with the addition of the Top Gear replacement show, it's going to have some worldwide exclusives that will bring new viewers.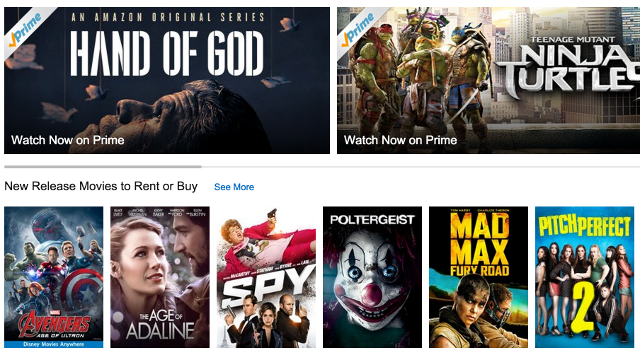 With a lot of new releases available to view or buy, Amazon is good way to go for viewers who want fast access to the newest movies available. It also offers a free 30-day trial to see if you like the selection of movies and shows that they have on offer. And at $99 per year after that, it's very competitively priced, especially with the bonuses you get with Prime.
2. Hulu Plus
(ads1)
If you're just looking for TV shows, Hulu Plus is a great way to go—with episodes of the newest shows, you won't miss out on any of your favorites when you can stream them instantly. Signing up for the Plus option at $8 per month gives you the most options for what to watch, and removes the pervasive ads that have long been the bane of non-paying users of Hulu.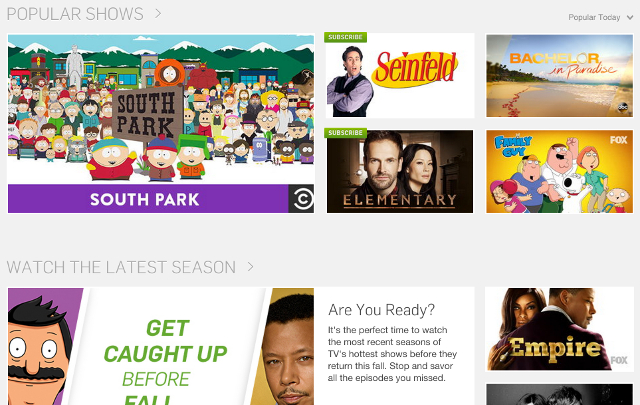 With shows like South Park, Empire, Mythbusters, CSI, Law and Order, and The Tonight Show, you can watch the biggest names out there in the most popular shows. Hulu Plus does also offer movies, though the selection isn't nearly as good as most other streaming services (though there are many hidden gems that can be found).
3. Vudu
Owned by Walmart, Vudu has a lot of purchasing power and so offers quite a few of the most popular movies and shows online. One of the coolest parts of Vudu is that you can buy movies and TV shows, much like on Amazon, but there's always a Deals section available—at the time of this writing, Spaceballs is available for $8, Collateral can be had for $5, there are plenty of two-movie sets for $10, and there are seasons of popular shows for $20.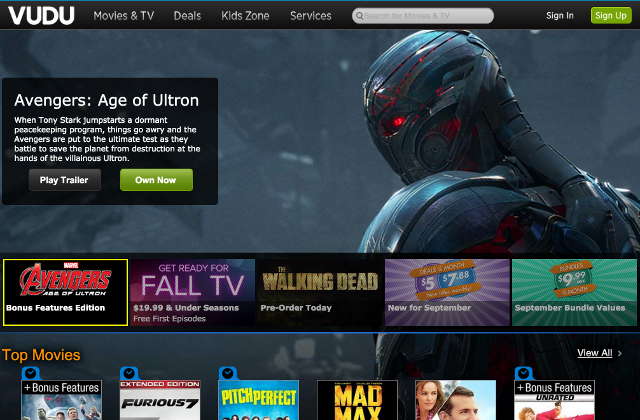 With the wide selection of movies and TV shows, and awesome deals on bundles, it's tough to beat Vudu for mainstream things to watch. Unfortunately, there's no free trial, but you can see a lot of the titles that are available from the homepage.
4. iTunes
You might not think of iTunes as a streaming service, but you can rent just about any movie from the iTunes library for a few bucks, making it a viable alternative to Netflix, especially if you don't watch very many movies. For $3 or $4, you can find tons of movies in both standard and high definition to rent for 48 hours.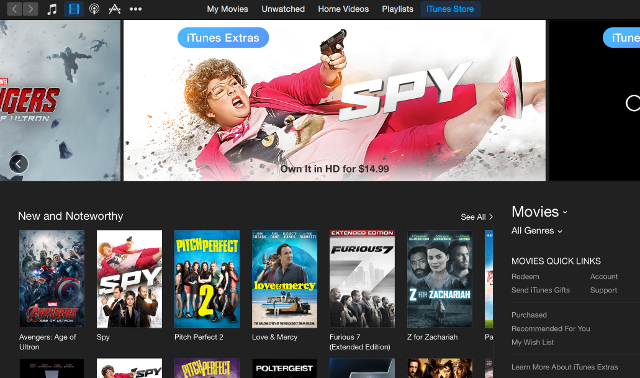 If you watch a lot of movies or want to stream TV shows whenever you want, iTunes might not be the best for you. But if you feel impulsive and want to rent a movie now and then—or buy and download something new right away—it's hard to beat the wide selection offered by Apple.
5. BoxTV (India)
If you're looking for Indian-made and -produced films, BoxTV is perfect. With movies in nine different languages (including Hindi, Bhojpuri, Kannada, and Urdu), the service offers hundreds of movies that will appeal to Indian audiences, no matter where they live; BoxTV is available in India, Singapore, the UAE, the UK, and the US.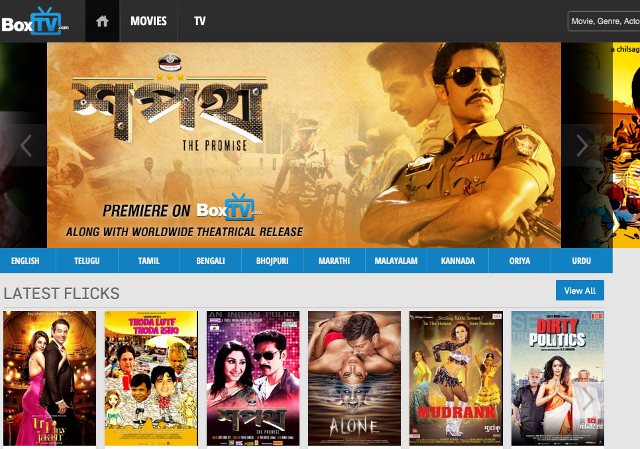 BoxTV, compared to many other services, is also very affordable—at ₹199, £4.99, or $4.99, it's not much more than a cup of coffee. For that price, it's hard to beat if you're looking for Indian movies and shows.
6. Stan (Australia)
Although Netflix is generally considered to be the best streaming service in Australia, Stan is making a run for the top spot. The company has made deals with a lot of content providers, and has a number of exclusives, including Breaking Bad and Better Call Saul. Stan is also producing its own content to rival the shows and movies produced by other streaming services.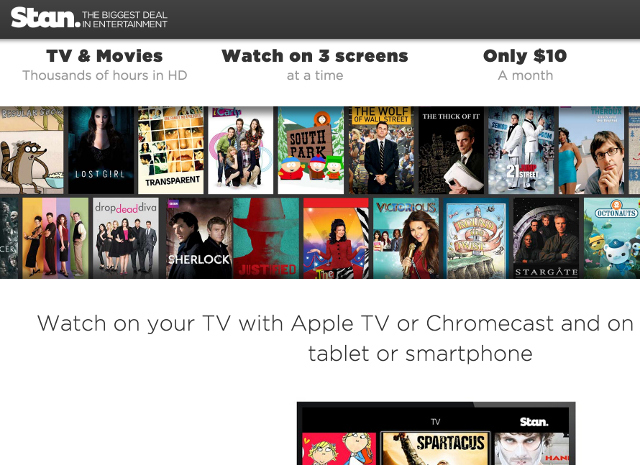 Its $10 per month price tag is tough to beat, especially with the wide variety of movies and shows that you'll find on the service, including a few things produced by Amazon, which will likely never make it to Netflix.
7. Acorn.TV
People around the world love British shows, like Holy Flying Circus, Queer as Folk, and Outnumbered, all of which can be streamed in the US and Canada through Acorn.TV for the very reasonable sum of $5 per month. There are lots of weekly releases, bonus features, and trailers to check out, too.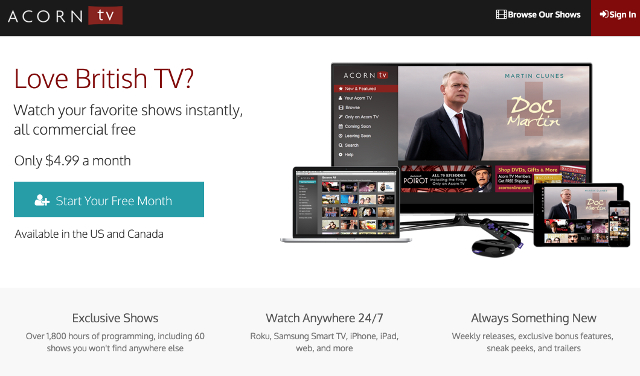 The selection is rather limited, but if you're a Brit abroad in North America—or just an Anglo-TV-phile—it might be worth it to subscribe to catch your favorite shows.
8. Crackle
Sony's online streaming service, Crackle, is free to watch, but includes commercials. If you're trying to cut costs but still want to catch your shows and movies, this might be your best bet. It's hard to know if you're going to be able to find what you're looking for, but there are quite a few options that will appeal to many viewers. Right now, National Lampoon's Van Wilder, House of Flying Daggers, Seinfeld, and District 9 are all available.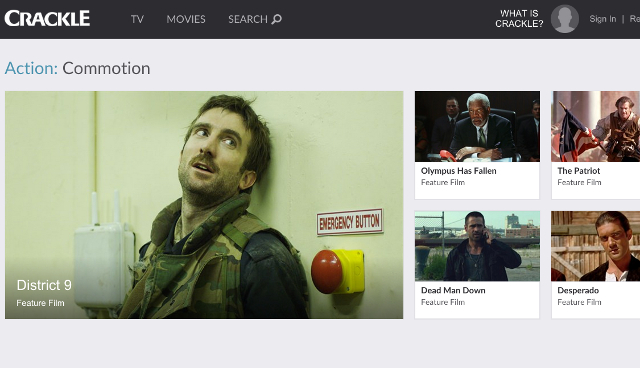 You absolutely can't beat free, and with the solid selection offered by Crackle, it can serve as a great replacement or supplement to another streaming service. Ads are annoying, but they're not the worst thing in the world, and they could save you $10 a month, which adds up quickly.
9. Fandor
Are you into indie and foreign movies? If so, Fandor has you covered. Popular indie flicks like Insomnia and Blind, documentaries including Propaganda and 5 Broken Cameras, and quirky cult classics like Ichi the Killer and Dark Star are all available on this service. While you'll find some movies here that are also on other services, this is definitely the place to look for movies you can't find anywhere else.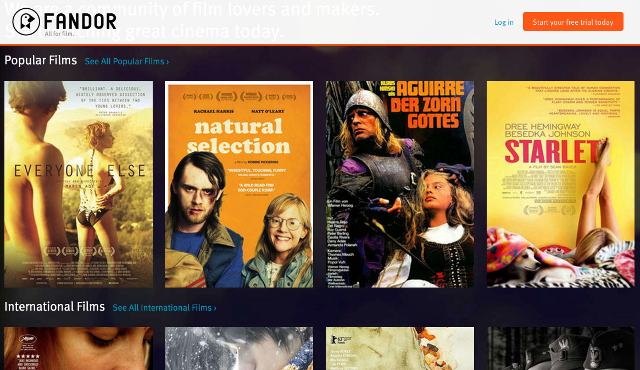 Plans start at only $7.50 per month, and half of what you pay goes back to the rights owners of the movies, so you can be confident that you're supporting the indie and foreign film industries by becoming a member.
Visit Website
10. M-GO
A newcomer to the online streaming scene, M-GO aims to become your one-stop shop for movies and TV shows. Because they're new, the selection isn't quite as good as some of the other services, but it's growing quickly, and this site could be a major player in the very near future. The site itself is one of the biggest advantages of the service; it's well-organized, can help you find lots of things that you're looking for, and provides great recommendations.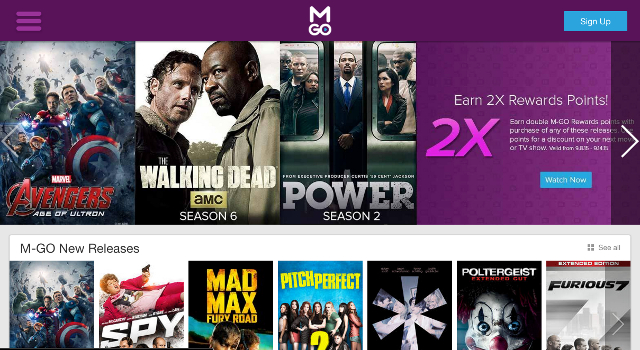 M-GO doesn't provide unlimited streaming like Netflix or Amazon, but serves as a portal through which you can buy movies and TV shows (like iTunes). It also allows you to accrue rewards points to save money on future purchases.
11. Yaveo (Spanish)
With the growing Spanish-language market becoming a serious economic force in the United States, it was only a matter of time until a Spanish-language streaming service debuted. DirecTV's Yaveo offers Mexican programming from Univision, Telemundo, and Caracol, as well as dubbed US programs from channels like Nickelodeon and MTV. Sports, movies, TV, telenovelas—it's all on Yaveo.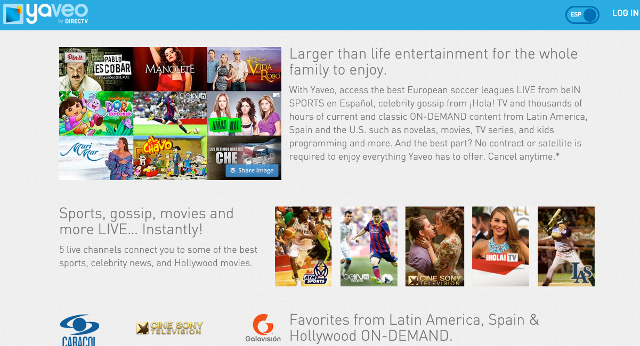 With both Latin American and Spanish content, Spanish speakers will find their beloved shows and movies here when they can't find them elsewhere. The fact that the service only costs $8 per month and doesn't require a DirecTV subscription adds to the already solid value.
Visit Website
SEE ALSO: 30 Best Free and Paid Movies on YouTube
These are the Netflix alternatives you may consider for watching movies, TV shows, etc online. If you know of any other superb alternative that deserves to be on the list, feel free to let us know in comments section.