MSI Laptop Guide : It's already October and if you're feeling the lockdown blues that won't go away no matter how much you've been waiting for fall weather, you can take joy in the fact that Diwali is fast approaching. That means a lot of good things, including some amazing deals on electronics and gadgets. So if you're thinking of buying an MSI laptop this holiday season during the MSI Diwali sale, here's a guide we've put together to help you decide just which laptop will suit your needs perfectly.
Gaming Laptops
Enthusiast Gamers
If you are an enthusiast gamer looking for your next gaming laptop, you are probably looking for something that can play pretty much any AAA title under the sun at 4K resolution with good frame rates. Even if you don't want 4K, as an enthusiast, you obviously want to experience ray tracing in supported games. Well, to get performance that would satisfy an enthusiast gamer, you will need the latest processors, highest-end graphics cards, and a large amount of RAM and storage, right?
MSI's laptops come with up to 10th-gen Intel Core processors. Plus you get up to Nvidia's RTX 2070 GPUs which will let you use ray tracing, and Nvidia DLSS for a much better, smoother gaming experience. You also get nice and large amounts of RAM and storage plus high refresh rate displays and what not. As an enthusiast, MSI's offerings will probably prove very worthwhile to you.
Take the MSI GP65 Leopard 10SFK, for example. This laptop brings pretty much everything an enthusiast gamer could want, including the RTX 2070 GPU. You will be able to play your favourite games with ease, and even stream them to your followers on Twitch without the laptop breaking a sweat.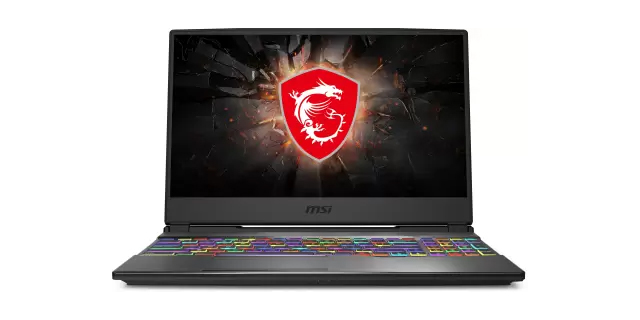 The MSI GP65 Leopard is available on Flipkart for ₹1,61,990.
There are a bunch of configurations you can choose to go with, by the way, you don't necessarily want the RTX 2070, or 32GB RAM, etc, and MSI has a bunch of other laptops that will offer you RTX graphics, and high-end gaming experience at other price points and with different specs that you can check out. For example, you can take a look at the GL65 Leopard (₹1,19,990), or the GF65 Thin (₹1,09,990) for getting your RTX gaming fix at other price ranges.
Mid Range Budget
On the other hand, maybe you're not an enthusiast gamer, but you just like to play the latest games, get good graphics and frame rates, and not end up spending way too much money on your hobby. Maybe you want a laptop that offers a better price to performance ratio, or you simply don't care about things like ray tracing or DLSS (yet). In that case, you can probably sacrifice a little in the processor and graphics card department to bring both the price down, and get a laptop that's more of a fit for both work and play.
If that sounds like you, a 9th-gen processor should prove good enough for your needs, and you also don't need to spend the extra money to get an RTX GPU. A GTX 16-series graphics card is more than capable enough of handling AAA games at good settings and give you really nice frame rates for an enjoyable experience with your favourite games.
MSI's GL65 Leopard is a great laptop for such use cases. It brings a good combination of the 9th-gen Intel Core i7 processor and the GTX 1650 GPU. It will be able to handle your favourite games at a nice combination of graphics quality and FPS which is what matters after all, right? Plus, at ₹77,679 it won't break the bank.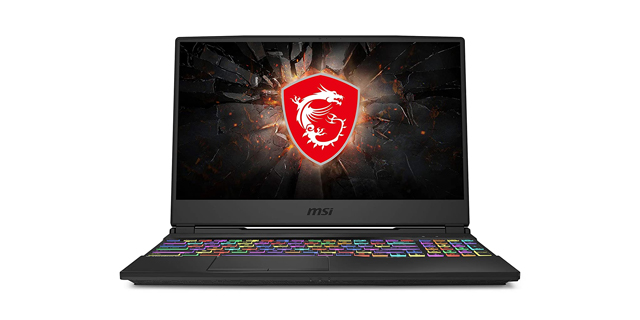 Also, if you want slightly better performance in games, you can check out the GF63 Thin (₹77,739). The GF63 comes in a bunch of different variants and there are a lot of choices to go with. You can get a variety of storage options, GPU choices including GTX 1650 and GTX 1650 Ti, etc.
There are other MSI laptops as well in a similar price bracket that you can check out for a mid-range budget gaming laptop.
For Gamers on the Move (Thin and Light Gaming Laptops)
Finally, if you're like me and you have to carry your laptop to work/college every day, and you don't want a heavy back-breaking device to lug around, thin and light gaming laptops are probably your best bet. These laptops offer similar specs as the mid-range offerings in this list, but they focus a lot on being portable. That's a big reason why these laptops offer GTX 16-series graphics cards instead of an RTX GPU.
Take the MSI GF65 Thin for example. This laptop has a sleek chassis and weighs just 1.86kg. That's really nice for a laptop that will be able to handle AAA games with ease and get you 60+ FPS with the right video settings thanks to the GTX 1660Ti. Plus, since it's thin and light, it's easy to carry around, and it fits right in at both work, and at home when you're gaming with your squad.
The MSI GF65 Thin is available on Flipkart for ₹1,04,990
There are other laptops here as well, such as the GF75 Thin (₹90,990) and even a Core i5 variant of the GF65 Thin (₹89,990) along with other options that you can check out.
Productivity
As a creative professional, you probably want a laptop that offers high end specs including a capable graphics card. At the same time, you would want a laptop that's thin and light, and also looks like a work machine, and not a gaming device. Plus, it should be able to handle heavy apps such as Adobe's creative suite, or high-end graphics editing or AR apps that you might need to work on, or maybe even things like Blender and Maya.
One of the choices you have here is the MSI Prestige 15 which brings all the things you might want in your laptop as a creative pro. It brings a nice 4K display, 10th-gen processors, and a GTX 1650 GPU for handling graphical tasks with ease. The laptop should easily handle your workload, and it looks quite good as well.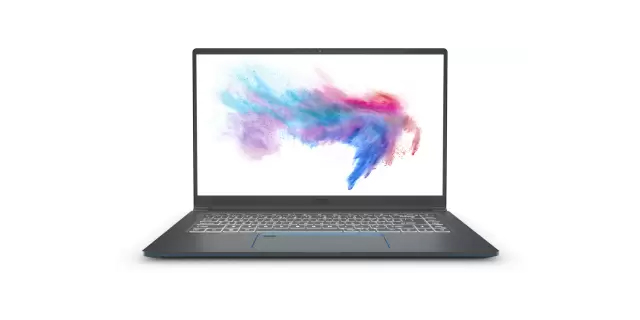 The MSI Prestige 15 is available on Flipkart for ₹1,36,590
On the other hand, if you don't really need a powerful GPU for your work, or if you basically just work on Photoshop and similar software, there are some other options as well, including the Prestige 14 (₹92,990) and the Modern A15 (₹69,490) that you can check out based on your preferences.
Choose Your MSI Laptop Guide with Our Buying Guide
We understand buying laptops can be a pain, especially because there is just so much to choose from. Hopefully, this MSI laptop buying guide has helped you in making a decision regarding what to buy for your grand Diwali splurge. What's more, MSI's Diwali sale has these laptops at up to 35% off, so it's a good time to get your next MSI laptop. We have tried to include laptops across multiple price points and use-cases, so you should be able to find something that fits your needs here. Let us know which laptop you picked in the comments down below.
Check out MSI's Diwali Sale